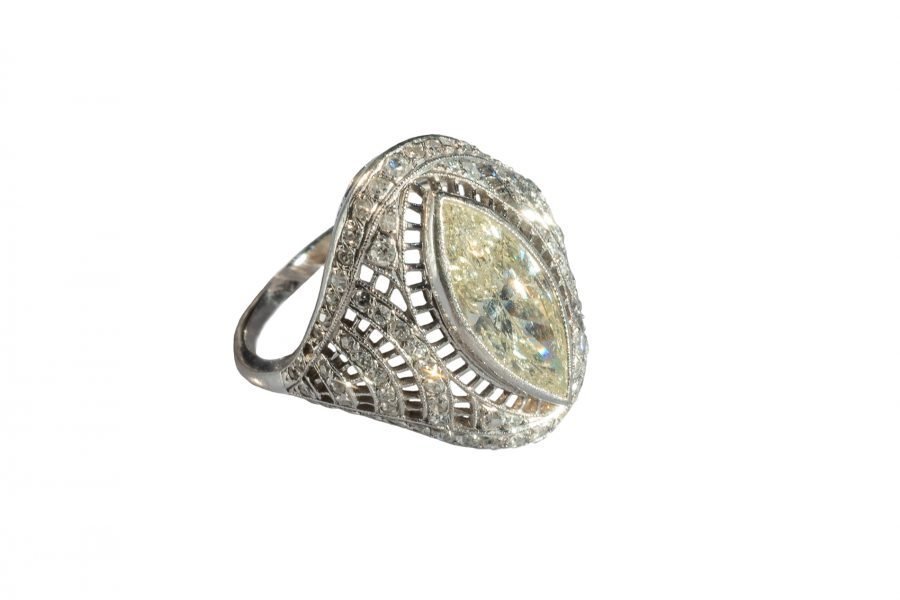 In stock
Decò Ring with Navette Diamond
5.500,00€
Platinum Art Deco style ring with diamond-studded frame and navette-cut diamond.
Enveloping and sumptuous Art Deco style ring made of shiny platinum with a navette-cut diamond.
A game of empty and full studded with diamonds frames a precious and showy central diamond in the shape of shuttles. The wrapping line that characterizes this ring proposes a technique coming from the Japanese tradition. Here the dynamic and undulating line reproduces the waves of the sea, a recurring symbol in Japanese figurative art. The exotic features of Decò were inspired by Indian jewels, Oriental art and Egyptian iconography. The brightly colored gems were placed in thin rows on white or platinum gold, finely polished cabochons and elegantly positioned to create curved and straight lines.
In jewelery platinum was particularly favored for its durability and elegance. Soft, ductile and easily workable but also strong and resistant. For this reason it is very appreciated for the processing of jewels that contain precious stones.