Out of Stock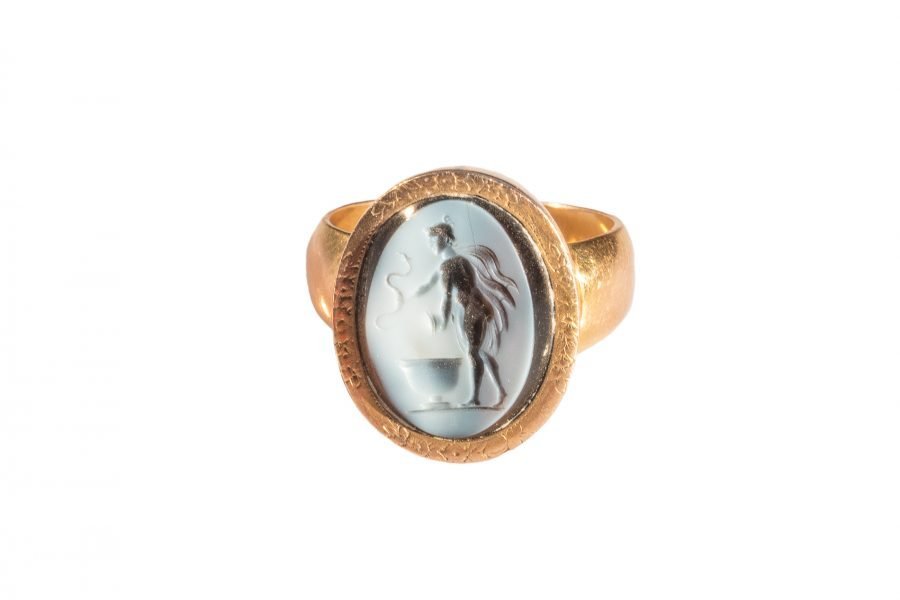 Out of stock
Cameo Ring in Antique Gold
Cameo ring from the end of 800 made of antique gold with hand engraved onyx depicting a woman with a snake.
Original Cammeo ring from the 1800s, made of antique gold and two-tone Onyx. The engraving represents a woman with a mantel resembling wings that holds a snake in her hand. The stone is framed by a floral motif engraved directly on the gold.
Dimensions: 1.81 x 2.26 cm
Size: 23
The use of carving or cameo as a decorative element of the jewel cannot be attributed to a precise period, in fact we find it in a recurring manner in different ages. However, it remains certain that the glyptic, or the art of engraving gems or semi-precious stones, has very ancient origins.
Intaglio means a stone engraved in depth, often linked to a concept of authority or identification, as in the case of stones used for seals.
The cameo, always realized through the use of the glyptic, is characterized by a low relief incision. Its use in this case is mainly for ornamental use, without official purposes.
The first examples of cameos with portraits date back to the time of Alexander the Great (332-323 b.C.). Its greatest diffusion occurs under the empire of Augustus, on sardonic stone or on semi-precious stones such as topazes and amethysts. Precisely in the Renaissance period, thanks to the favorable economic situation of the Italian states and the great commercial expansion, the taste of the classical period was rediscovered.
Since their inception, jewelery with cameos, regardless of their use, has always had a great appeal on women when on men. And still today they represent a modern jewel with an ancient allure.