Out of Stock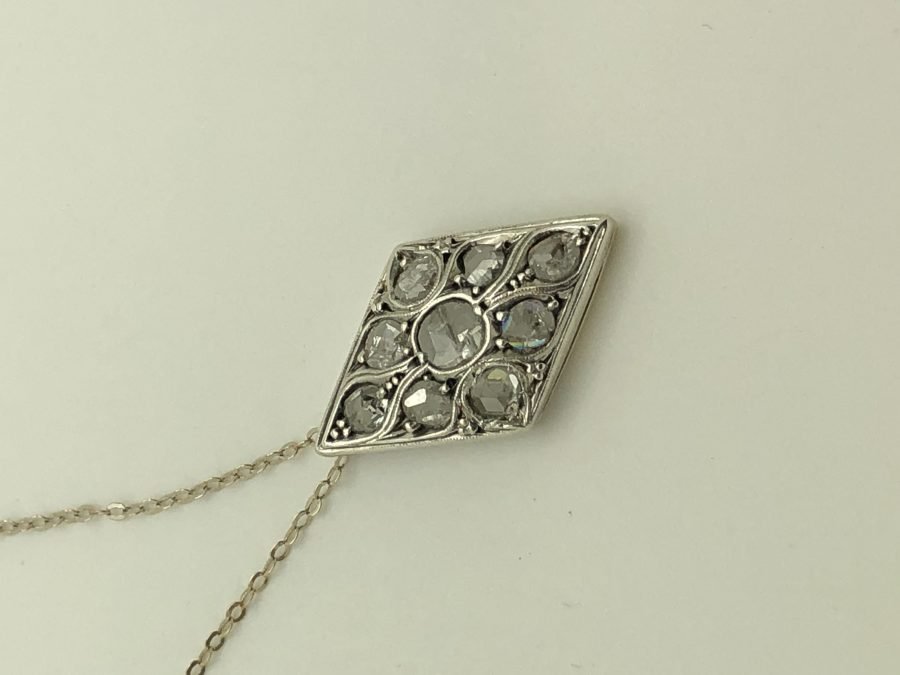 Out of stock
Liberty Pendant Necklace with Diamonds
Necklace with liberty pendant from the early 1900s in the shape of a rhombus made of gold and silver, embellished with coroné rose cut diamonds.
Gold: 9 kt
Silver: 800
Diamonds: approx. 1.00 ct.
Dimensions: 2.7 x 1.6 cm
Liberty Pendant Necklace in the shape of a diamond with diamonds dating back to 1900. Made of gold in the lower part and silver in the upper part, this Liberty rhombus pendant is embellished with nine diamonds cut in rose coroné. This type of diamond cut differs from all others in terms of brilliance. In this case, in fact, the many facets of the crown reflect more light, giving diamonds an unparalleled brilliance. This Liberty-style necklace from 1900, in addition to having a unique shape, is made unique by the play of light inevitably put into effect by the presence of nine coroné rose cut diamonds.
Gold: 9 kt
Silver: 800
Diamonds: approx. 1.00 ct.
Dimensions: 2.7 x 1.6 cm