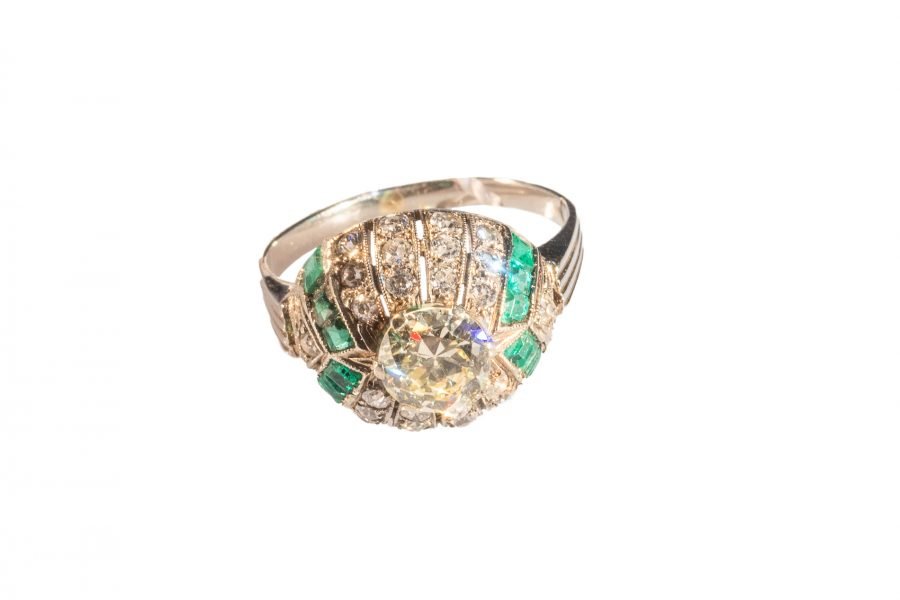 In stock
Platinum Ring with Diamonds and Emeralds
4.900,00€
A blaze of platinum diamonds and emeralds on a platinum dome.
A blaze of platinum, diamonds and emeralds concentrated in one jewel! As in this Déco style domed ring of unprecedented refinement. The play of colors is here emphasized by the harmonious lines. The curiosity to know how the original owner wore it is immediate!
The ideal jewel of the Twenties, in fact, had to be the completion of a particular dress, like an ornament designed specifically for a particular woman, or chosen to suit her tastes, her lifestyle and her way of being. As each object had to be unique, jewelers began to refuse to create repetitive mass-produced ornaments.
As a result, there was an extremely varied and rich production, which found sources of inspiration in the civilizations of the Middle East and South America. Past jewelry was revisited with a new creative freedom, sensitive to the contemporary stylistic currents of art. Of that vast and successful production, we can still enjoy its splendor through precious examples, such as this platinum ring with diamonds and sapphires.