Out of Stock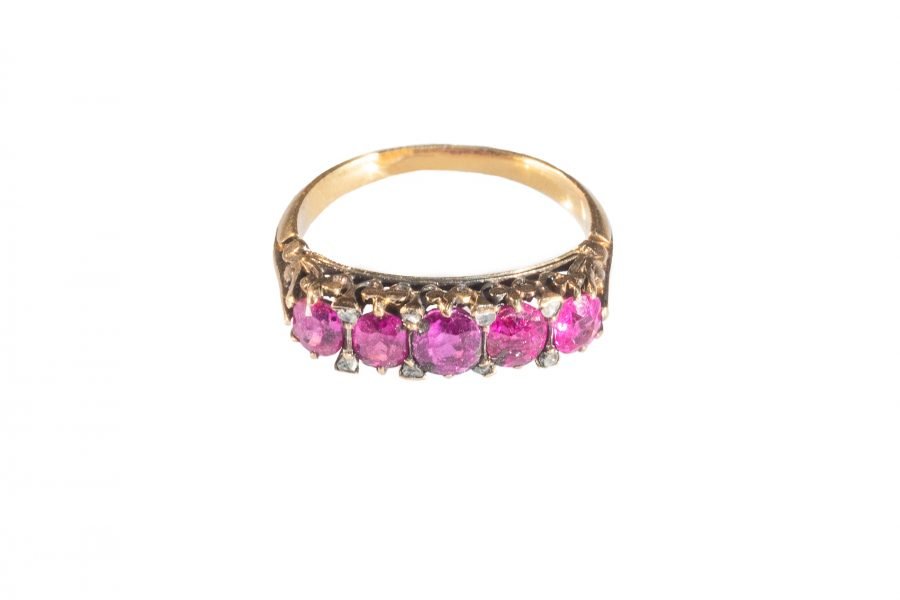 Out of stock
Victorian Riviera Ring Diamon and Rubies
19th century Victorian Riviera ring in antique gold with rubies, diamonds and engraved leaflets, finely handcrafted.
Victorian Riviera in antique gold with diamonds and rubies, finely hand made. Rubies have a round shape and diamonds a rose cut. A typical example of a Victorian sentimental jewel. This period is in fact characterized by romanticism, in which the link with nature and human sentiment was central. Romanticism, as well as music, art and literature, also involves jewelry. The jewels of this period were made mainly by hand. And the stylistic motifs were often inspired by nature, reproducing flowers, leaves and animals. The naturalistic appeal is therefore indispensable: in this Victorian riviera in antique gold with diamonds and rubies, small leaves are engraved on the frame to gently frame the alternation of precious stones. Although the jewel belongs to the XIX the set of lines is decidedly modern.
The riviera ring, like the solitaire and the trilogy, has never changed over time. Its extreme elegance and portability remain unchanged over time, adapting perfectly to all styles and women of all ages.